Medical Examiner's Office
ME Annex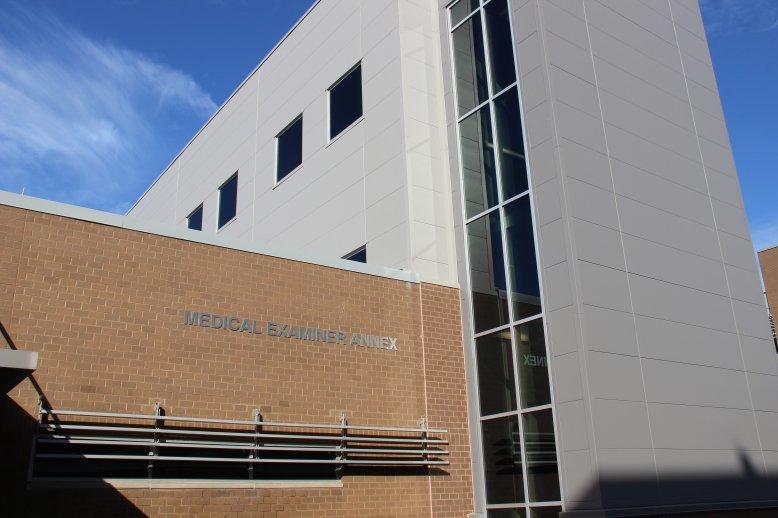 Mission Statement:
To serve the citizens of the State of Georgia, the public, and the justice system by investigating sudden, unexpected, or unexplained deaths throughout the state with integrity and credibility. To provide forensic science expertise to any agency or requestor to the fullest extent possible so as to foster public health, safety, and well-being by conducting death investigation in accordance with the law and professional standards. 

About:
The Medical Examiner's Office of the Georgia Bureau of Investigation provides complete forensic pathology services to 155 of Georgia's 159 counties in deaths which qualify as coroner cases under the Georgia Death Investigation Act (OCGA 45-16-2).  Death cases are reported to the Medical Examiner's Office by coroners, deputy coroners, and government officials. Requests for examinations are received 24 hours a day, 7 days a week. The Medical Examiner's Office determines if a postmortem examination will be performed. Cases accepted for examination are transported to the respective laboratory by transport services provided by the county where the death occurred, where the body was found, or where the incident that led to the death occurred. 
The Georgia Bureau of Investigation Medical Examiner's Office is accredited by the National Association of Medical Examiners. https://www.thename.org/
Medical Examiner Offices:
Autopsies are conducted by GBI medical examiners at the Headquarters Laboratory in Decatur (Atlanta) and in the regional laboratories in Macon and Pooler (Savannah). Staff consists of forensic pathologists, death investigation specialists, and administrative staff.
ME Map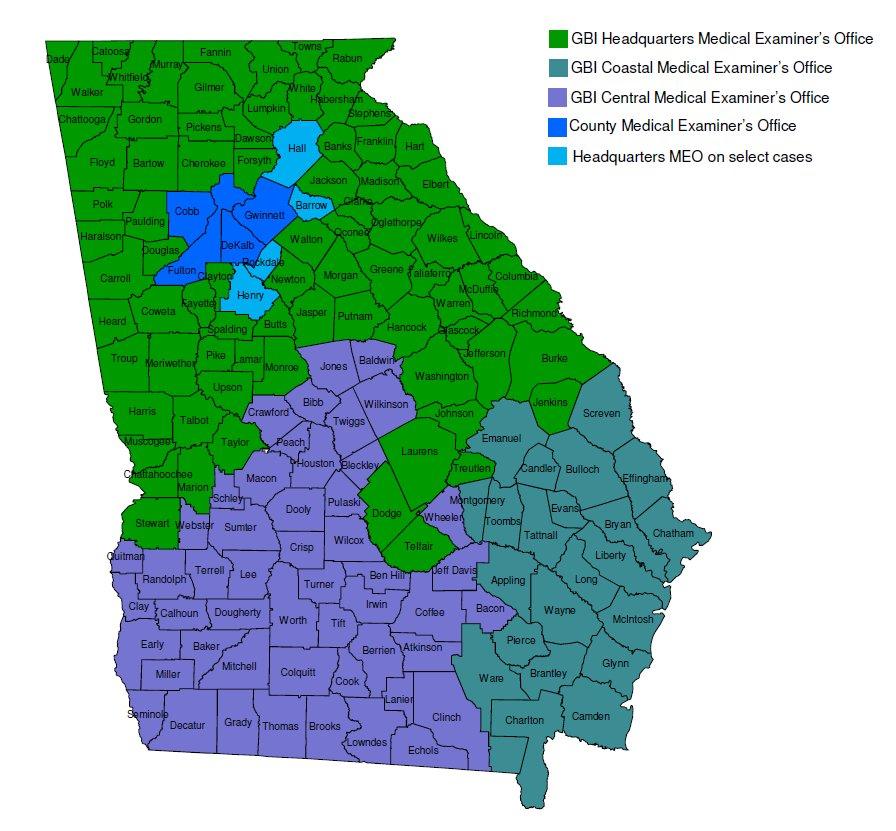 Additional Information:
The following counties have their own medical examiner offices and do not fall under the jurisdiction of the GBI Medical Examiner:
https://www.dekalbcountyga.gov/medical-examiner/medical-examiners-office
https://www.fultoncountyga.gov/inside-fulton-county/fulton-county-departments/medical-examiner
https://www.cobbcounty.org/medical-examiner
https://www.gwinnettcounty.com/web/gwinnett/Departments/MedicalExaminer/
Organ and Tissue Donation:
The GBI Medical Examiner's Office is a strong supporter of life saving and life altering organ and tissue donation.  Any death that is investigated by this office where donation is requested will be reviewed by a medical examiner for approval or denial. 
https://www.lifelinkfoundation.org/
https://www.georgiaeyebank.org/