GBI - Medical Examiners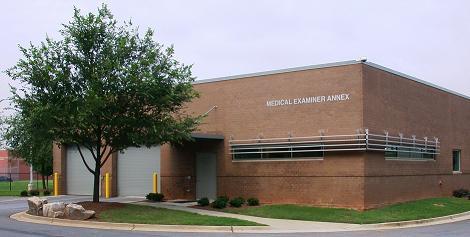 The Medical Examiner's Office of the Georgia Bureau of Investigation provides complete forensic pathology services to 153 of Georgia's 159 counties in deaths which qualify as coroner cases under the Georgia Death Investigation Act. The Chief Medical Examiner for the State of Georgia oversees the GBI's medical examiner (M.E.) program and also establishes policies and guidelines for all Georgia coroners and local medical examiners.
Autopsies are conducted by GBI medical examiners at the headquarters laboratory in Decatur and in the regional laboratories in Augusta, Macon, and Savannah. Staff at the headquarters medical examiner's office consists of eight medical examiners, ten investigators, five forensic pathology assistants, two photographers, two secretaries, and three transcriptionists. One of the medical examiners at the headquarters lab specializes in pediatric pathology and the evaluation of fatal and non-fatal pediatric injury.
There are two medical examiners and two investigators in the Savannah Regional Office along with a transcriptionist and a forensic pathology assistant. The other regional labs mentioned above have a medical examiner, an investigator, a forensic pathology assistant, and a transcriptionist.
In addition to the forensic pathology responsibilities, the headquarters office also has access to a forensic anthropologist from the University of Georgia for the recovery and examination of skeletal remains.
Death cases are reported to the Medical Examiner's Office by coroners, deputy coroners, and law enforcement. The Medical Examiner's Office determines if an examination will be performed. This office investigates deaths that fall under one or more of the following categories:
Those deaths that are apparently homicidal, suicidal, or occurring under suspicious or unknown circumstances
Resulting from the unlawful use of controlled substances or the use or abuse of chemicals or toxic agents.
Occurring while incarcerated or while in the custody of a law enforcement officer .
Apparently accidental or following an injury.
By disease, injury or toxic agent during or arising from employment.
While not under the care of a physician during the period immediately preceding the death.
Related to disease which might constitute a threat to the health of the general public.
In which human remains have been disposed of in an offensive manner.
Requests for examinations are received 24 hours a day, 7 days a week by the headquarters section of the M.E.'s Office. Cases accepted for examination are transported to the respective laboratory by transport services provided by the county where the death occurred or where the body was found.
In their examinations of the deceased, forensic pathologists aim to determine the cause and manner of death. Cause is why the person died or the medical reason for the death; that is, the injury or disease responsible for the death. Manner is how the person died or the circumstances that led to the cause of death.